In Prescott, Arizona it's WILD and CRAZY times! So natually, there's a lot of buzz about home views and whether or not they affect the home value. "Hey mister, that beautiful brick wall out the window is a P.E.R.FECTO location to hang that painting of your dog drinking a latte on Thursday!" Let's see… who can guess how many factors go into home-value? Correct, "Always one more!" Let's talk about a few and delve into the psyche of the home-buyer and home-seller, and see if we can't really mess things up.
Home-Seller/Builder – This could be a person who just owns a previously owned home they purchased off the market, or it could represent someone who is building their own custom home. This really doesn't refer to developers.
Because of the amount of blood, sweat, and tears that inevitably (and sometimes literally) get dumped into building a home (or refurbishing an existing home to improve it) the home always has a bit of nostalgia connected to the seller. The amount of time lived in a home can also affect the psyche of the seller; I.E. if the seller has raised a family of llamas in the home. Unfortunately, none of these things matter when it comes to pricing a home. The only thing that matters is how the final product presents itself when it comes on the market…without the llamas. There may be some "value" in nostalgia if it's connected to a famous event or if the home was owned by a person of renown, but those situations are very rare.
One way that I look at homes is with a "ground-zero" approach. Not the one where someone says, "That looks like GROUND ZERO!! BOMB IT!!!" Let me give you an example of what I mean. A seller will inform me, "Hey Matt, we've recently repainted the home! Aren't you XCITED?!" After we do the happy-dance, I take that statement and apply the "ground-zero" rule. Should a home-buyer, purchasing a new place to live, expect the paint to look good? The answer is yes. A nice looking paint job is ground-zero. All homes should have nice looking paint. But do they? The answer is no. What makes new paint worth more? The answer is nothing. Chipped, old paint actually devalues the property. New paint just brings it up to ground-zero. Home buyers most likely will not even see the paint (other than observing its color) unless it's chipped or displayed bad workmanship. Adding value to a paint job might include a case study in feng shui… or just drink a margarita. The appeal of the home, due to its amazing paint job, might add value. Color doesn't add value, a successful final result adds value. A good rule of thumb to follow is "Save the sterogram paint job for your next house, and go neutral."
Remember, when selling a home, you're job is to justify to the buyer why the home is worth what you're asking. Because "Fred built the deck 10 years ago with his bare hands" does not constitute a price hike over the home next door wherein the deck was put it by the developer. In fact, any home improvement project that was not completed by a professional will bring into question warranties and workmanship issues. So, be sure you get proper permits and oversight when deciding to re-tile that floor. And remember, it's not how much work you put into it, it's about the final result.
Ground-Zero approach to VIEWS. So much has been said about views recently in Real Estate conventions, classes, etc… that no one seems to know what's going on. I've heard recently (2014-15) that views do not factor into home value. This came from a certified continuing education teacher who practices real estate in the area. I've also heard that views are a huge percentage of the value of a property. So…let's look at it logically from the Ground-Zero perspective.
Should all homes have a great view? The answer is yes. But do they? The answer is no. Like paint, I then ask the same questions. Is the location of the property actually adding value, or is detracting value? When examining this question, it's like examining the sides of a coin. Same coin, different images, but the coin is worthless with one side removed. If everyone had great views, views would not be accounted for. What makes a 1,200sf condo on the 10th floor worth more than the one on the 2nd? Again, a lot of other factors come into play. But let's just examine the value of a home using the "VIEW FACTOR".
I've spent a lot of time analyzing data over the years in Prescott, Arizona…I mean a lot of time. As in every day for 10 years. I've also photographed over 4,000 properties in the area for existing agents and myself. I go home, I work on each photo individually, I upload the data to the MLS, write in the descriptions, create the virtual tour, add all the information for the agent, and study the results of the hits. I know which photos get the most hits, and I know which descriptions to use to procure the most views. Speaking firsthand to hundreds of home-owners that inevitably follow me around the home and provide a hopeful narrative to "why their home is worth what they're asking", I indubitably hear about views.
"Look at that view!" "You won't get a view like anywhere else, I guarantee!" "That's a million dollar view right there!" Before I was a Realtor, I could say certain things like, "Really…? Why not sell your rag-tag mobile home on that 5 acre lot for $1.2 million then?"  Or better yet, "why is the vacant land across the street selling for $100,000 less than yours?" The perception of value from the perspective of the seller is not based on the Ground-Zero method. In truth, most sellers are thinking about other things…usually money…or better yet, what that money will buy them.
Location, Location, Location. Why is it important? Because it's the one thing (for better or worse) that cannot change. The location of a property is intrinsic to its value because the property is attached to the earth. It IS the earth. "VIEWS" can and do change. Over time, a view can be hindered by other structures, trees, or commercial real estate growth. An owner of property actually has no right to sell a view, because they don't own it. The only way to own a view is to own the entire landscape of what that property visually encompasses. Some people have this luxury, most do not. What most home owners are actually selling is the opportunity to enjoy "said" view.
What value do views actually provide?
Well, for one, views provide a sense of space, and for some a sense of power. Space may not be available (high-rise buildings), but views may provide people with a feeling of freedom, and/or perspective. I've never heard any human complain about a "view" being too good. For instance, in the movie theater; I never hear someone say, "This view is too perfect, let's move to front row where everything will be blurry and our necks will kink!" Likewise, I also don't see people waiting for the Macy's Day Parade in New York City (for 5 hours ahead of time in the freezing cold) say, "Let's trade our unobstructed view with someone 15 rows back!" Same goes for sporting events and the arts. The best seats cost the most money. Why? Because of the view and perspective they provide.
Likewise in real estate, a view or perspective of a geological feature (like a mountain) may in fact increase the value of that property. But by how much?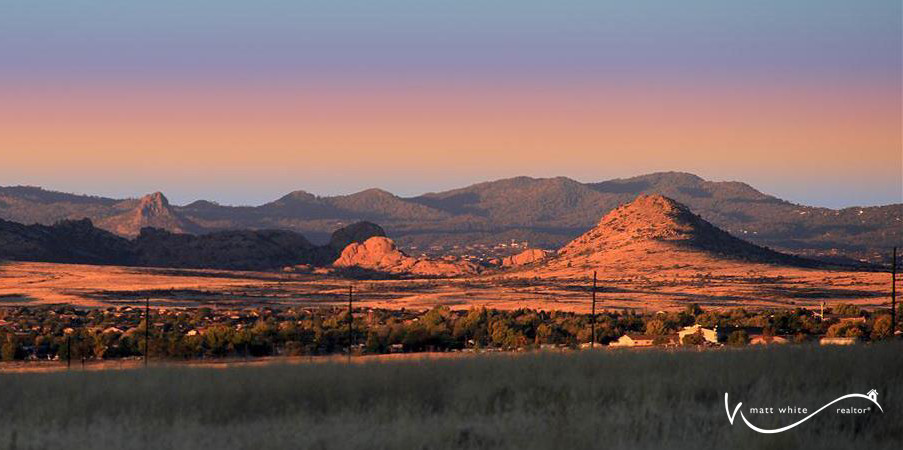 Years of studying this kind of data has led me to believe that certain views are worth more than others in Prescott.  A home may have a great view but be in an undesirable neighborhood for some. Meaning that a great view-property built next to a factory will not sell for the same price as a similar property built in a gated community, although both may have similar views. Also, homes that are built on hills in a pine forest may have more value that homes that are built on a hill in the middle of a city. Quality of air due to elevation also plays a part, as does what the view is looking at. Views of Thumb Butte rate higher than views of the San Francisco Peaks. However, views of Thumb Butte from Prescott Valley rank lower than views of Granite Mountain. The reason, Thumb Butte blends into the backdrop of the surrounding mountains from the perspective of most Prescott Valley homes. All of these factors have % values that can be included in the home valuation process. Views of a body of water rank high, but not as high as owning property right on the water. Because water is a scarce commodity in Arizona, water views are coveted.
Factoring in all the measurable data to determine the value of a home is what any good agent should do. I then apply the Ground-Zero rule and the percentages I've calculated to the proposed property for sale.
1. Should all (x) homes have a great view? Yes. Do they? (Yes or no) = +/- $(%)
2. Is the view of Granite Mountain? $(%), Thumb Butte? $(%), Granite Dells? $(%), and from what perspective? Each of these factors gives me an idea, based on previous home sale prices, to what a home will actually sell for. Once again, what a person believes their view is worth does not determine the actual value of the property. If factoring the "VIEW" alone, with no other differences, the percentages are actually very small. However, those small percentages may in fact increase the value of your Prescott area home by 2-20%.